What is battstat?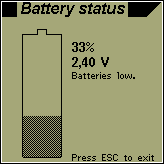 Battstat is a tool for the Casio Pocketviewer PDA series. It displays the current status of the PVs batteries. Battstat should run on the following devices:
PV S250 (tested) & PV S450
PV 250X & PV 450X
PV 750(+)
To learn more about the Casio pocketviewer visit:
http://www.pocketviewer.de THE german pocketviewer page (english translation available)
http://www.pocket-viewer.com (the?) english language PV page
Battstat was programmed by Sebastian Schildt .
Battstat would not have been possible without:
Johannes Steingräber. He discovered the "secret" OS function to read an AD value representing the current battery voltage. AND Johannes helped me quite a lot with C, since I'm new to this language.
Markus "Doggy" Seifert He measures his PV with special equipment to learn the connection between the AD value and the actual voltage. See his work here (in german!)
All the PV users using battstat and encouraging me to develop new versions.
Download battstat?
You download battstat at your own risk. If it deletes your data, blows up your PV or injures anyone using it, that's YOUR problem, not mine!