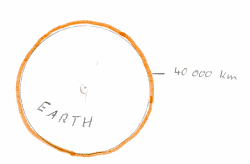 Ok, we have the earth. The earth as a circumference of 40.000 km. Now we put a rope around the aequator. The rope lies directly on the surface of our earth (and our earth has the shape of a perfect sphere...)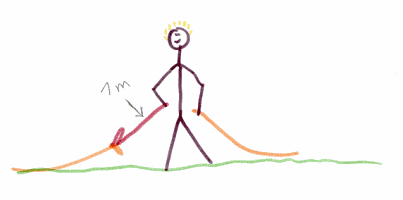 Now we have a guy, who cuts this rope and adds 1 m to it. What is the distance between the earth and the rope, when we assume that the distance is equal around the whole aequator?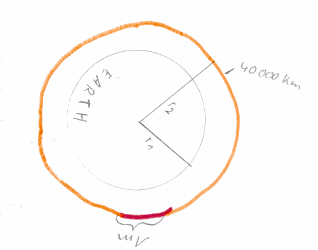 Ok, remember your time in school... This should be quite easy. The distance is the difference between the radius from the earth and the rope.




Ok, this looks quite reasonable. But what do you think will happen, if we do the same with a tennis ball? What is the distance between the tennis ball and the rope when we lengthen it by 1 m?
Believe me, it's also 15,915 cm. You don't belive it? Ok, let's calculate it. Let assume our ball has a circumference of 20 cm.



This distance remains the same, whatever object you coose. You may lengthen the circumference of a atom or of the galaxy by 1 m, the distance will always be 15,915 cm.
The explanation is quite simple - it's just math! Let's assume our initial circumference is C.



No matter what C you choose, your distance will always be

, and thus be 15,915 cm.
Back